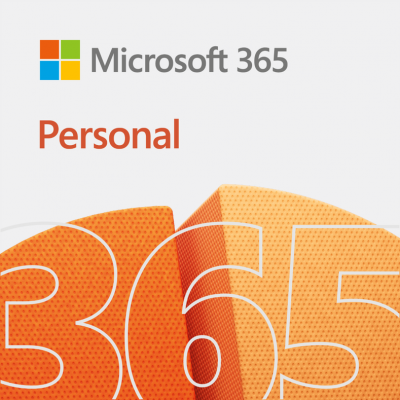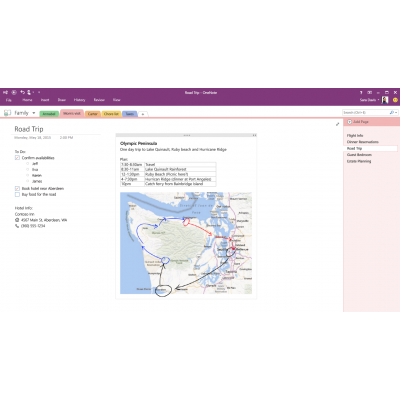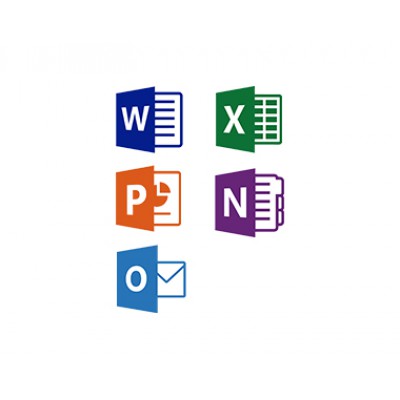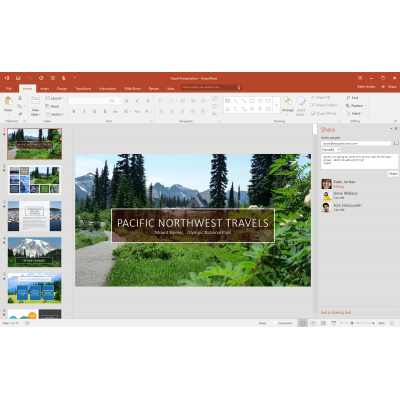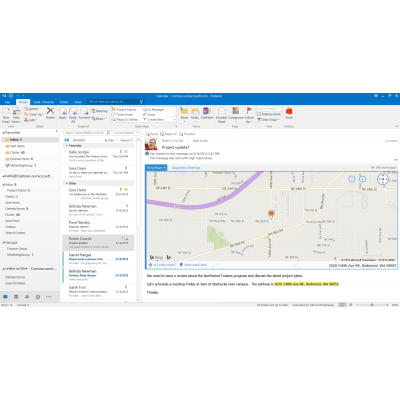 Microsoft 365 Personal AllLng Sub 1YR
Great for 1 PC or Mac, and 1 tablet, Office 365 helps you get things done from virtually anywhere, on all your devices. Plus, every new upgrade is included so you'll always have the most up-to-date versions or applications.
1-year subscription for 1 PC or Mac, 1 tablet including iPad, Android, or Windows, plus 1 phone
Full, installed 2016 versions of Word, Excel, PowerPoint, Outlook, and more
60 Skype minutes per month and 1 TB OneDrive online storage per user
Upgrades always included
All-new Office 2016 applications
Office 365 comes fully loaded with the latest and greatest versions of Word, Excel, PowerPoint, OneNote, Outlook and more, downloaded directly to your favorite devices. You can keep working even if you are not online 4. All the tools you know and love, now built for even greater productivity and collaboration.
Install on multiple devices
Get the full Office experience on 1 PC or Mac, 1 tablet (including Windows, iPad, and Android) and 1 phone5 - so you can work how you want, when you want and where you want.
Access from anywhere
Office 365 is made for teamwork. 1 TB of OneDrive online storage means you'll have tons of space to save your work to the cloud and share it with colleagues—and even co-author, edit and make comments in real time together, whether you're in the next room or across the globe.
Always up to date
When you purchase an Office 365 subscription, you get the latest software versions and upgrades as soon as they're available, at no extra cost. You control your upgrades, and you decide whether and when to version-up.
Connect with Skype
With Office 365, you'll receive 60 minutes of Skype per month. Staying in touch with friends, family and colleagues has never been easier
1. Publisher and Access are available on PC only. Current Office application versions are Office 2016 for Windows and Office 2016 for Mac. Customers with an active subscription will be entitled to the newest versions when available.
2. Application availability varies by device. For full system requirements, see www.office.com/information.
3. Compatible with Windows 7 or later, OS X 10.10. See www.office.com/information for full system requirements, including those for tablets and smartphones.
4. Skype account required. Excludes special, premium and non-geographic numbers. Calls to mobiles are for select countries only. Skype minutes available in select countries.
5. You must accept the License Agreement, www.microsoft.com/useterms.
Mac®, Mac OS®, and Mac OS X® are registered trademarks of Apple Inc.
Computer and processor
PC: 1 gigahertz (Ghz) or faster x86 or x64-bit processor with SSE2
Mac: Intel processor
Memory
PC: 1 GB RAM (32 bit); 2 GB RAM (64 bit)
Mac: 4 GB RAM for Office 2016 for Mac
Hard Disk Space
PC: 3.0 GB available disk space
Mac: 6 GB HFS + hard disk format for Office 2016 for Mac
Display
PC: 1024x576 resolution
Mac: 1280 x800 resolution
Graphics
Graphics hardware acceleration requires a DirectX 10 graphics card
Operating system
PC: Windows 7 or later, Windows Server 2008 R2, or Windows Server 2012
Mac: OS X 10.10
Windows Tablet: Windows 8 or later
iOS: Office for iPad® requires iOS 7.0 or later, Office for iPhone®  can be installed on phones running iOS 6.0 or later
Android: Office for AndroidTM can be installed on tablets and phones that are running Android KitKat 4.4 or later version and have an ARM-based or Intel x86 processor.
Multi-Touch
A touch-enabled device is required to use any multi-touch functionality. However, all features and functionality are always available by using a keyboard, mouse, or other standard or accessible input device.
Note that the new touch features are optimized for use with Windows 8 or later.
Additional System Requirements
Non-commercial use.
Internet functionality requires Internet connection.
Microsoft account required.
Product functionality and graphics may vary based on your system configuration. Some features may require additional advanced hardware or server connectivity.
You must accept the License Agreement, www.microsoft.com/useterms.